Times Square Fire Doesn't Dampen Giving Spirit – The Great Falls Tribune
A small fire and subsequent sprinkler drenching inside the Times Square building caused some damage, but hasn't dampened spirits for the nonprofit organizations housed in the facility.
In fact, My Neighbor in Need, a nonprofit organization that uses the Internet to connect donors with people in need of everyday goods, announced Tuesday — a week after a small fire was started in its store by a candle — that the organization has now filled its 6,000th wish.
"This has been an interesting week on karma's roller coaster," said Dave Snuggs, founder and board president of My Neighbor in Need. "Today we're back on the upside — the joy side."
Robbyn Mays, her husband and their two small children moved here from Washington a few months ago because her husband found work as a welder. While they tried to save up enough money to afford an apartment, they lived in a tent at Dick's RV Park. When the tent was destroyed and some of their belongings were soaked due to inclement weather, they moved into different motels until they found an apartment. St. Vincent de Paul worked to get the family clothed, but referred Mays and her husband to My Neighbor in Need for furniture.
They received one queen-sized bed and two twin beds for their children along with bedding and other household supplies from the organization.
"We originally had a car full of things," Mays said.
Snuggs and My Neighbor in Need CEO Kim Wombolt said they are all thankful that the fire was put out quickly and the sprinklers in the building did their job — put out a fire.
ExperienceWorks, a nonprofit organization housed below My Neighbor In Need, suffered significant water damage to its computer training center. But even the company's CEO said while the nonprofit is having to dry out client documents with hairdryers and must keep fans running until insurance kicks in and fixes the damage, things could be worse.
"There was a waterfall in the training room. But My Neighbor in Need has been absolutely fantastic," ExperienceWorks director Mardi Milligan said. "The sprinklers worked, the building didn't burn down, and nobody got hurt. This is just an inconvenience."
Snuggs said the building is owned by Montana Farmer's Union, which does have insurance on the building, but it will be up to My Neighbor in Need to cover the insurance costs since the fault of the fire was pinned on the organization.
Wombolt said My Neighbor in Need has good insurance that will cover the cost of fixing and replacing damaged items, the cost of which won't overwhelm the organization's ability to continue doing good in the community.
"It will take care of the damages and allow us to continue our mission," she said.
Dave Snuggs points the remnants of a plastic tool box where a fire started at the My Neighbor In Need store in Times Square. (Photo: TRIBUNE PHOTO/RION SANDERS)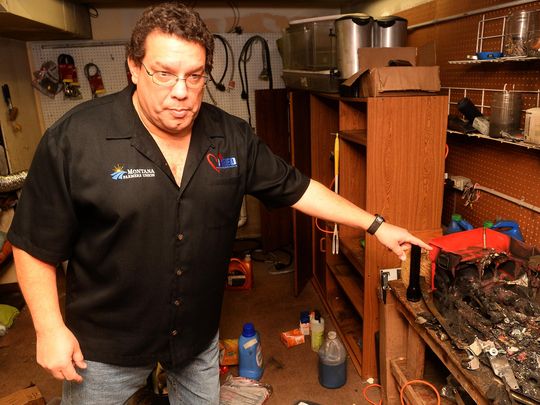 Wombolt said the fire was started by a candle that an employee was burning to help repair woodwork on some furniture. She said it's a common practice to use candle wax in repairing woodwork.
The employee blew the candle out, but there was apparently still a small flame, which kept the candle burning for hours before it torched a plastic toolbox and started a small fire that was immediately put out by the sprinklers.
"The person feels awful, but it could happen to any of us," Wombolt said. "No one lost anything that's not replaceable. This is just stuff. The mission is still intact."
And Mays and her families now have somewhere other than a tent, a car or a hard floor to rest their heads.
"It was like a prayer was answered — right when we needed it," she said.