How it Began in the Sauk Prairie Area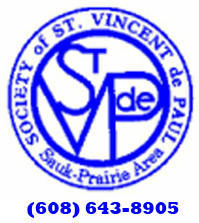 On a return trip from the Canadian Rockies in May 2012, we stopped in Great Falls, Montana. I picked up a local newspaper and read an interesting article on a unique program called "My Neighbor In Need" that started in this town in February 2012.
The article definitely caught my attention and I wanted to learn more about it. After taking a closer look at their website (www.myneighborinneed.org) I thought this would be a great program for our community to get involved in and presented the article to the Board Members at St. Vincent de Paul, Sauk Prairie where I work.
I got in contact with Dave Snuggs, the developer of the program in Great Falls, Montana and after several conversations with him and hearing his excitement about the good deeds they were fulfilling in his town, we decided to duplicate the program in our community.
Dave welcomed the idea of sharing with us all the information on how the program works and the rights to use the system and operational layout along with the licence and code name. It is his wish to share this information with any other organization who wishes to help a neighbor in need.
All that we needed to do were three things to move forward with this program: #1 a core group to oversee the project, #2 a group of volunteers, and #3 the local media to be a partner and promote the project through a weekly story in the local newspapers.
Our volunteers share a concern for others and a desire to assist in helping and changing lives by promoting the "My Neighbor in Need" program. We know that the challenges of our lives can be overwhelming at times and we tend to forget the frustrations of others around us.
With everything now in place and inspired by what the Great Falls program has accomplished, we are ready and eager to launch our new program.
Thank you for checking out our website and reaching out to help our neighbors in need.
Sincerely,

Karen Fabisiak