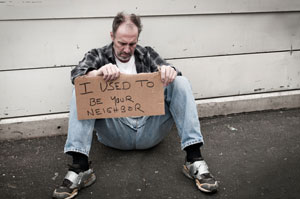 Welcome to My Neighbor In Need.
"We provide a nurturing, dignified way to connect individuals who have a specific need with those who wish to fulfill that need."
---
Our Belief!
Here at www.myneighborinneed.org we believe that every single person at one time in their life has had a need. For some, that time is right now!
We also believe that each of us has the capacity, talent and ability to help their neighbors in need.
Finally, we believe that each of us can provide help because help comes in many different forms. The first step in helping your neighbor in need is to simply care.
---
Please select an area that best serves you.
---
News Highlights!
---
Press Releases!
Community Coat Drive and Closet to Start

Posted: Wednesday, October 01, 2014

Last year, the nonprofit My Student in Need website fulfilled more than 400 requests for items for local school children, and approximately 75 percent of those items requested were winter coats and gear.

Story by Kristen Cates at the Great Falls Tribune. Story originally posted at http://www.greatfallstribune.com/story/news/local/2014/
09/30/community-coat-drive-closet-start/16508405/

Which is why Dave Snuggs, founder of My Neighbor in Need and My Student in Need, was happy when approached by local resident Cyndi Baker about holding a community coat drive as well as creating a community coat closet to serve those in need.

"This is such a giving community, and coats are such a basic thing," Baker said.

The result of her partnership with Snuggs and the Great Falls Public Schools is a community coat drive that starts Saturday and lasts through Oct. 12. There are multiple sites where people can drop off not just coats, but other winter gear.

All of the coats and gear will then be taken to the My Neighbor in Need thrift store where Snuggs and other volunteers have launched a student community coat closet, which will be accessible to adults who know a kid is in need of winter gear.

"It's a faster way to get a coat in a kid's hands," Snuggs said.

Typically a request for a coat has been fulfilled through the website for My Student in Need. Once the request is posted by a teacher, the school has to wait until a donor sees the request to fulfill it.

By turning to the coat closet instead, Snuggs said the goal will be to have a supply of coats on hand that a teacher or clinician or social worker can come down and pick up right away. Adults will still have to demonstrate the need, but with the coat closet it eliminates the middle man while still giving donors the satisfaction of helping out.

"The reason why people support our program is they don't buy what we do, but they buy why we do it," Snuggs said. "They realize they're making a difference."

Baker said by stockpiling coats, boots, hats, gloves, snow pants and more, it frees up the student website to fulfill "higher-level" need requests such as prescription glasses or meal cards. She also wanted to see the coat drive happen earlier in the year so kids weren't in freezing weather without coats.

In addition to the coat closet being accessible to the schools, Baker said she hopes agencies such as the Great Falls Children's Receiving Home and the Rescue Mission will also utilize the resource. Baker said she also hopes other entities that hold coat drives throughout the year will consider contributing to the coat closet at My Neighbor in Need so there is a central source of supplies for those in need.

"Anybody in the community who works with children can put in a request," Baker said. "It's basically the community taking care of the kids."

Reach Tribune Staff Writer Kristen Cates at 791-1463 or kcates@greatfallstribune.com. Follow her on Twitter @GFTrib_KCates.

New and gently-used coats of all sizes (toddlers on up) can be dropped off at the following locations Oct. 4 to Oct. 12:

First Liberty Federal Credit Unions: 401 Smelter Ave; 505 10th Ave So; and 6200 3rd Ave North.

Prairie Mountain Bank: 1019 7th Street S.; 3635 10th Ave. S.

Great Falls Public Schools administration offices: 1100 4th St. S.

Scheels: 1200 10th Ave. S. (Holiday Village Mall)

Wal-Mart: 701 Smelter Ave. NE

My Neighbor in Need: 525 Central Ave. (Times Square building)

My Neighbor In Need hits fulfillment milestone

Posted: Saturday, September 13, 2014

Story by Margaret DeMarco @ KRTV. Story originally posted at http://www.krtv.com/news/my-neighbor-in-need-hits-fulfillment-milestone/

GREAT FALLS -- My Neighbor In Need hit a big milestone on Friday as it fulfilled its 3,000th request in the Great Falls community.

Dave Snuggs started the My Neighbor In Need program and website in March of 2012 so that people could give to others anonymously.

The site allows residents to post a plea for help, whether it be lawn care assistance, dental emergencies, or plumbing issues. Volunteers then verify the need is legitimate and community partners called "good deed-doers" help fulfill the request, either with money or by performing a needed service.

When the site first launched, Snuggs said he had hoped to reach 200 fulfillments in a year, but My Neighbor In Need has expanded to more than two dozen communities and even in Wisconsin.

On Friday, Snuggs presented Sherry Hoyer and her daughter Tanisha Lewis with a bed at the My Neighbor In Need office in downtown Great Falls.

Sherry recently got an apartment after living in a homeless shelter and in a camper on a friend's property.

She needed help filling her new apartment with furniture, so Sherry turned to My Neighbor In Need.

"We received two beds, a couch, a table and two chairs, microwave oven, blender, toaster, dishes, bedding wear, entertainment stand, TV," Hoyer said.

Sherry says that her and her daughter can now relax in their new home. She can also now focus on work and raising her daughter.

"I can't explain it with words. I am so happy and thankful," she said.

Normally, the people who participate in the program -- both on the request and the donation side -- are anonymous, but Sherry wanted to share her story: "I am very proud and thankful to everybody involved."

www.myneighborinneed.org Celebrates Two-Year Anniversary

Posted: Sunday, March 23, 2014

"This is a day to celebrate! Today we celebrate kindness! Today we celebrate the generosity of strangers! And today, we once again demonstrate that it does not take a lot to do a lot," Snuggs said. "What started out as the simple idea of anonymous giving has grown into a movement encompassing other social services needed by members of the community including www.mystudentinneed.org, the Pet Food Pantry and the Give What You Can Community Thrift Store."

My Neighbor in Need, a non-profit organization, based in Great Falls Montana, has satellite projects in Teton County (operated in partnership with Neighbors Helping Neighbors) and Lewistown, Montana. In addition, My Neighbor in Need is available in Southern Wisconsin through a partnership with Saint Vincent De Paul. My Neighbor in Need provides citizens a way to ask for help from their community and a way for the community to give back.

In two years, My Neighbor in Need has received over 3,400 requests for help and has fulfilled over 2,300 needs with almost 2,100 fulfilled in Cascade County Montana alone. "Although the website has been instrumental in connecting those in need with those willing to help, without the community embracing the concept My Neighbor in Need would simply be a website. I want to thank our sponsors, community partners, volunteers and most of all the caring individuals and organizations who every day wake up and make the choice to help a neighbors in need. Their compassion and dedication is without measure," Snuggs said.
News Updates!
Missoulian: Paxson student trumpets in new year with Grammy winner's instrument

Posted: Monday, January 12, 2015

A Missoula fifth-grade band student got a late Christmas present this week when she received a trumpet donated by Grammy Award-winning trumpet player Arturo Sandoval.

When band began in the fall, Paxson Elementary student Isabel Munro was excited to make the sounds that inspired her to learn how to play the trumpet in the first place.

UOM makes video about MSIN

Posted: Thursday, January 08, 2015

University of Montana students makes a story about My Student In Need

Dave's aha moment

Posted: Friday, August 08, 2014

What if there was a way to ask for help where no one knows you were asking for help?