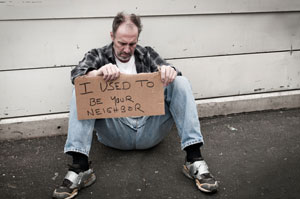 Welcome to My Neighbor In Need.
"We provide a nurturing, dignified way to connect individuals who have a specific need with those who wish to fulfill that need."
---
Our Belief!
Here at www.myneighborinneed.org we believe that every single person at one time in their life has had a need. For some, that time is right now!
We also believe that each of us has the capacity, talent and ability to help their neighbors in need.
Finally, we believe that each of us can provide help because help comes in many different forms. The first step in helping your neighbor in need is to simply care.
---
Please select an area that best serves you.
---
News Updates!
My Neighbor in Need Hits 1,000th Need Fulfillment

Posted: Thursday, April 11, 2013

My Neighbor in Need just celebrated their one year anniversary last month. Today they are celebrating their one thousandth need fulfillment, which is a milestone they never thought they'd reach so quickly.

Watch Video

Happy One Year Anniversary My Neighbor in Need

Posted: Wednesday, March 20, 2013

Today My Neighbor in Need held a luncheon, at the same location where their dreams came to life one year ago, to celebrate their first anniversary. In the last year they have fulfilled more than 900 needs.

Read More...