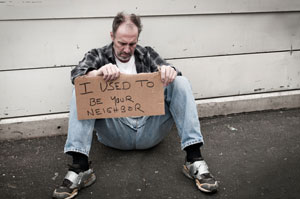 Welcome to My Neighbor In Need.
"We provide a nurturing, dignified way to connect individuals who have a specific need with those who wish to fulfill that need."
---
Our Belief!
Here at www.myneighborinneed.org we believe that every single person at one time in their life has had a need. For some, that time is right now!
We also believe that each of us has the capacity, talent and ability to help their neighbors in need.
Finally, we believe that each of us can provide help because help comes in many different forms. The first step in helping your neighbor in need is to simply care.
---
Please select an area that best serves you.
---
News Highlights!
---
Press Releases!
www.myneighborinneed.org Celebrates Two-Year Anniversary

Posted: Sunday, March 23, 2014

"This is a day to celebrate! Today we celebrate kindness! Today we celebrate the generosity of strangers! And today, we once again demonstrate that it does not take a lot to do a lot," Snuggs said. "What started out as the simple idea of anonymous giving has grown into a movement encompassing other social services needed by members of the community including www.mystudentinneed.org, the Pet Food Pantry and the Give What You Can Community Thrift Store."

My Neighbor in Need, a non-profit organization, based in Great Falls Montana, has satellite projects in Teton County (operated in partnership with Neighbors Helping Neighbors) and Lewistown, Montana. In addition, My Neighbor in Need is available in Southern Wisconsin through a partnership with Saint Vincent De Paul. My Neighbor in Need provides citizens a way to ask for help from their community and a way for the community to give back.

In two years, My Neighbor in Need has received over 3,400 requests for help and has fulfilled over 2,300 needs with almost 2,100 fulfilled in Cascade County Montana alone. "Although the website has been instrumental in connecting those in need with those willing to help, without the community embracing the concept My Neighbor in Need would simply be a website. I want to thank our sponsors, community partners, volunteers and most of all the caring individuals and organizations who every day wake up and make the choice to help a neighbors in need. Their compassion and dedication is without measure," Snuggs said.

My Student in Need to Receive $25,000 From General Distributing!

Posted: Tuesday, December 03, 2013

General Distributing Company, a family owned business that has been serving Montana since 1948, will present a check for $25,000 to My Student in Need on Tuesday, December 3, 2013 at Noon. The presentation will highlight the pre-opening celebration of My Neighbor in Need/My Student in Need's new location at 525 Central Ave, inside Times Square, Downtown Great Falls. "There are not enough ways to say Thank You for this amazing show of support," said Dave Snuggs, Founder My Neighbor in Need/My Student in Need.

"General Distributing is pleased to partner with such a worthy organization in our community. General Distributing Company and our employees have been blessed and honored to be part of the community for 65 years. Education of our young people is vitally important and it is hard to get a good education when you are cold, hungry or both. We are humbled and honored to support My Student in Need. It is because of our employees that this is even possible." said Glenn Bliss, President of General Distributing.
News Updates!
Dave's aha moment

Posted: Friday, August 08, 2014

What if there was a way to ask for help where no one knows you were asking for help?

MY NEIGHBOR IN NEED - NEEDS YOUR HELP!

Posted: Thursday, June 05, 2014

Please make a donation of just $36.50 right now through Pay Pal. That's just a Dime-a-Day!

Community Thrift Store is on TV!

Posted: Thursday, January 30, 2014

Here is a preview of our TV commercial that will begin to air on Friday, January 31, 2014!